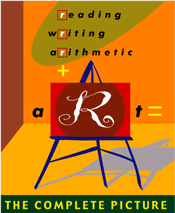 Art the 4th R- Translated into 18 languages
"In an era in which students design Web sites for homework assignments and integrate video, graphics, music and animation into school projects, art is fast becoming the new literacy for our times. The three Rs are now the 4 Rs: reading, 'riting, 'rithmetic and art."
The article originally appeared in Educational Leadership Magazine, October 2000, and is reprinted with permission of the editors
Versions of this article have also appeared in Technos Quarterly, Summer 1996, Vol. 5, No. 2, and Communication Arts Magazine, March/April 1998 issue. An abbreviated version of it was published in the Fall 1996 issue of ArtsEdNet Offline, a Getty Education Institute for the Arts' publication as The 4 Rs: Preparing Kids for the World of Work in the Age of Multimedia.
Art the Fourth R - Reprint Note
Educational Leadership Magazine, Oct. 2000